Our Design Edge
If there are two things we know, it's designing and the internet. And the consumer. That's three.
As a leading interactive agency in the Entertainment market, we have a deep understanding of the elements that contribute to a brand's success in print and online. It's about cutting edge design, next generation interactive and robust technology solutions that entice, engage and excite. Building real emotional connections.
So why do some of the world's leading brands choose M.A.D.E.?
We set the pace for creative consumer experiences online
We live and breathe creativity and entertainment. It's our passion. We understand the customer because we are the customer. Knowing the in and outs of the market allows us to not only keep up with industry trends, but to create them—and set unprecedented standards for new media.
Our success is rooted in strategy
Superior solutions stem from a superior strategy. It's the fundamental foundation. We offer a vast expanse of knowledge on crafting rich, new user experiences through detailed information architecture, extensive planning and application of market research, best practices and analytics. Our precise methodology allows us to ask the right questions and find the right answers. We are sharp. And we know that staying ahead of the curve is crucial to a brand's success.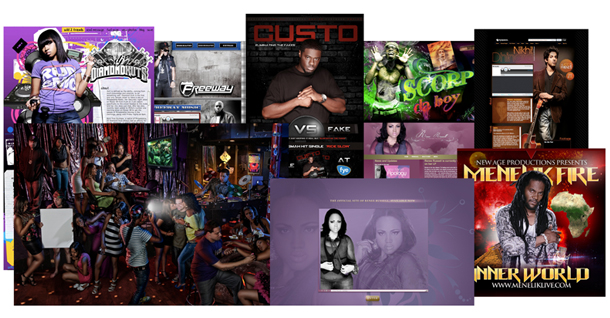 We are creators and innovators
Consistently thrill both our clients and ourselves—that's our core value. We provide innovative concept development, creative direction, branding, design and copywriting services that challenge the rules and expand the digital landscape. We are always on the prowl for the most comprehensive and cohesive solutions. Whether it's new mobile technology or service fulfillment enhancements, opportunities surround our clients. We're here to find them.
We optimize and transform through technology
We're not just another design firm. We are on the cusp of new and emerging technology. Our team is equipped to build, host, integrate and maintain ground-breaking projects using our flexible, state of the art tools. No rigid templates. No boundaries. Just the best in class technology.
Select clients include Columbia Records, Def Jam, Roc-A-Fella, 20th Century Fox, B.E.T. and others.